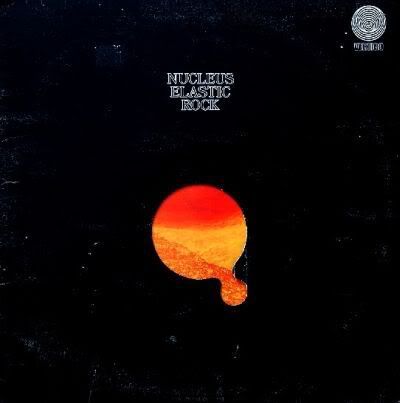 Nucleus - Elastic Rock - 1970 - Vertigo
Nucleus were one of the early British rock/fusion groups, taking their cue from the music of Miles Davis but tending more to the rock side. Technically brilliant playing on melodic and complex works make this a classic release. (320 bitrate).
TRACKS
1. 1916 (jenkins) (1:11)
2. Elastic Rock (Jenkins) (4:05)
3. Striation (Clyne/Spedding) (2:15)
4. Taranaki (Smith) (1:39)
5. Twisted Track (Brown/Spedding) (5:15)
6. Crude Blues, Pt.1 (Carr/Jenkins) (0:54)
7. Crude Blues, Pt. 2 (Carr) (2:36)
8. 1916 The Battle Of Boogaloo (Jenkins) (3:04)
9. Torrid Zone (Jenkins) (8:40)
10. Stonescape (Jenkins) (2:39)
11. Earth Mother (Carr/Clyne/Jenkins/Marshall/Smith/Spedding) (5:51)
12. Speaking For Myself, Personally, In My Own Opinion, I Think (Marshall) (0:54)
13. Persephones Jives (Carr) (2:15)
CREDITS
Ian Carr (Trumpet), Ian Carr (Flugelhorn), Chris Spedding (Bouzouki), Chris Spedding (Guitar), Roger Dean (Illustrations), Roger Dean (Cover Design), Nucleus (Main Performer), Jeff Clyne (Bass), Jeff Clyne (Bass (Electric)), Jeff Clyne (Guitar (Bass)), Karl Jenkins (Piano), Karl Jenkins (Oboe), Karl Jenkins (Piano (Electric)), Karl Jenkins (Sax (Baritone)), Karl Jenkins (Baritone), John Marshall (Percussion), John Marshall (Drums), Brian Smith (Flute), Brian Smith (Soprano), Brian Smith (Sax (Soprano)), Brian Smith (Sax (Tenor)), Pete King & His Orchestra & Chorus (Producer)
REVIEWS
This album is IMO a milestone in British jazz fusion. I was highly impressed after first listening to this album, after finding out that some of the members of NUCLEUS went off to form the new lineup(s) of SOFT MACHINE as the years went on. Both Karl Jenkins and Ian Carr are compositional masterminds. They also are excellent players and deserve much more attention than they get. Now on to a review of the album.
John Marshall's frantic drumming kicks off the fanfare to the album. This piece, "1916," really sets off the album nicely. Next, comes the excellent title track with a solid bass line and drumming with winds playing the melody. Chris Spedding's bluesy guitar solo is a standout in this composition. After this comes "Striation," a Clyne and Spedding collaboration, and "Taranaki," that are both much calmer and smoother than the previous tracks. "Taranaki" also features great trumpet and tenor parts.
"Twisted Track" comes next and is probably my favorite track on the whole album; it packs in so much emotion. The piece starts out very soothingly and gradually builds with various solos an duets by members of the group. By the end of it, everyone is joining in, and the piece ends just as it started. "Crude Blues Part 1" features an excellent oboe part by the multi-talented Jenkins. "Part 2" is similar to the title track and has great wind parts once again. Also, Jenkins gets another oboe solo in this one. He really shows off his playing skills.
"1916 (The Battle of Boogaloo)" features a steady bass line and great saxophone/trumpet (brass) call and response parts. It is probably one of the most famous tracks on the album, deservingly so. "Stonescape" continues on where "Boogaloo" left off; it is a solid piece, featuring an excellent solo by Carr. "Stonescape" has a smooth muted brass sound jazz listeners will most probably enjoy. The track "Earth Mother" brings back earlier recurring themes from the album, including another Jenkin's oboe solo. Next comes the ever-familiar drum solo (just listen to Soft Machine from "Fifth" or "Softs" if you don't know what I'm talking about) by John Marshall in "Speaking for Myself Personally, in My Own Opinion I Think." The album closes off with "Persephones Jive," a track that ends the album frantically, just as it began.
This album is highly recommended to fans of British fusion, especially latter-day Soft Machine fans who are interested in seeing what some of the members were doing before they joined SOFT MACHINE. This album would make a great addition to anyone's collection. It is a great starting point for anyone interested in getting in to NUCLEUS or the genre itself. 4.5 stars. © MeurglysIII © 2000 - 2007 rateyourmusic.com
A seminal early album from Ian Carr's legendary Nucleus group -- playing here in a version that includes Karl Jenkins and Brian Smith on reeds, and Chris Spedding on guitar. The band had a landmark sound that mixed progressive jazz and tight full-on rock fusion into a style that was sometimes funky, sometimes avant, and often pretty darn exciting! This album has lots of nice electric piano lines, and plenty of choppy sax parts that hit a nice groove in the manner that would later be taken up by a lot of European reed players. Tracks include "Torrid Zone", "Stonescape", "Striation", "1916 -- The Battle Of Boogaloo", "Persephones Jive", and "Earth Mother". © 1996-2007, Dusty Groove America, Inc.
When Carr brought together keyboardist/oboist Karl Jenkins, saxophonist/flautist Brian Smith, guitarist Chris Spedding, bassist Jeff Clyne and drummer John Marshall, established musicians all, to record Nucleus' first record, Elastic Rock , one doubts that he could have envisioned the impact the album would have, not only on the British scene, but on the international stage as well. A few short months after recording their first record they won the top award at the Montreux Jazz Festival and found themselves playing at the Village Gate in New York, to an audience who was wondering exactly what it was they were hearing. And if it weren't for a manager's greediness, Elastic Rock would have seen Stateside release, and the broader history of fusion might have been coloured a different way. But sadly that didn't happen and Nucleus, after an initial flurry of activity on the North American scene, ultimately returned to England where they maintained a successful career there and on the European continent, for the next ten years or so.
From the opening burst of Jenkins' "1916," with its anthemic horn-line supported by Marshall's flurry of activity, it is clear that something new is happening. The album as a whole, while incorporating certain elements of rock rhythms, is a more relaxed affair than what was to come later. If a comparison must be made, then Miles' In a Silent Way is a precedent, although Carr claims not to have heard it at the time of recording, which just continues to reinforce the reality that advances in music come from many sources and usually at the same time. Like In a Silent Way , Carr chose to build side-long continuous suites of music, although there is less reliance on hypnotic groove and more on composed melodies, mostly from the pen of Jenkins, who would write the majority of Nucleus' first two records. And while there are some similarities between the trancelike groove of "Torrid Zone" and "Shhh/Peaceful," there are differences as well. While "Shhh/Peaceful" would rest on a certain ambience for nearly an entire side, "Torrid Zone" would lead into "Stonescape," a more conventional ballad, albeit played with a certain elasticity in time by Marshall. Segueing into "Earth Mother," Jenkins delivers an oboe solo over a group improvisation that, as rocky as it gets, is still relatively subdued compared with their next album, We'll Talk About It Later , which was recorded eight months later in September '70 .© John Kelman © 2007 All About Jazz and/or contributing writers/visual artists. All rights reserved.
Britain's jazz scene embraced jazz-rock as soon as it was invented by Miles Davis. Formed in 1969 by trumpeter and flugelhornist Ian Carr (a veteran bebop musician), Nucleus were among the very first groups to fuse jazz and rock from the jazz perspective. Carr had been playing for almost ten years, first in the EmCee Five (featuring John McLaughlin on guitar) and then in the Rendell-Carr Group, which released five albums before 1969.
Except for the jittery, petulant, forceful eight-minute Torrid Zone, Nucleus' first album, Elastic Rock (Vertigo, 1970), was fragmented in brief vignettes that highlighted the group interplay without attempting any major statement. Ian Carr on trumpet and flugelhorn, Karl Jenkins on oboe and piano, Brian Smith on saxophone and flute, Chris Spedding on guitar and bouzouki, Jeff Clyne on bass and John Marshall on drums (both Marshall and Jenkins being ex-members of Graham Collier's ensemble), constituted one of the most skilled combos in the world, and each piece was mainly a display of their technical brilliance and of Carr's command of the melody (Elastic Rock, the sublime Earth Mother). Copyright © 1999 Piero Scaruffi www.scaruffi.com/vol2/nucleus.html#title
Elastic Rock on the new "progressive" Vertigo label, produced with the assistance of Peter King and Ronnie Scott Productions, was greeted with great critical acclaim and sold well for a jazz album. This may have been due to the fact that nothing like it had ever been heard before. It was truly iconoclastic. Featuring many of Jenkins' compositions, Elastic Rock did not share the same territory as any other band either in jazz or rock. The album was both subtle and yet had a pronounced and deliberate blues/rock feel and in 1970 Nucleus won the award for top group when they represented the UK at the Montreux Jazz Festival. © http://bzptczve.wordpress.com/
BIO
Nucleus began its long jazz-rock journey in 1969, when it was originally formed by trumpeter Ian Carr. They attracted a following after a successful performance at the Montreux International Festival in 1970, which led to the critical success of albums Elastic Rock and We'll Talk About It Later. The other members consisted of saxophonist Karl Jenkins, drummer John Marshall, and guitarist Chris Spedding. Spedding split after the first two albums, but the rest of the lineup lasted until 1972, when Jenkins and Marshall both left to join Soft Machine. Belladonna was the first album with only Carr, and although he enlisted the help of guitarist Allan Holdsworth, the band eventually became a solo venture for his music. They finally broke up in the mid-'80s after several Carr-only albums. © Bradley Torreano, All Music Guide