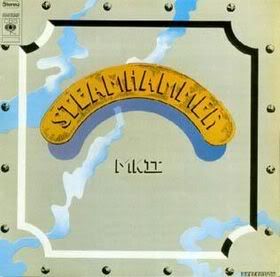 Steamhammer
-
Mk II
-
1969
-
CBS UK
This is mainly a well structured blues rock album, with great jazzy improvisations. Steamhammer was a very prominent live act in the sixties, especially in Germany. An unusual band in that their music has been categorised as progressive blues, which was a rather unusual music style in the late sixties. There is nothing groundbreaking here, but the album is enjoyable, and well worth listening to for its variety of expertly played musical fusions.
ORIGINAL TRACKS
1. Supposed To Be Free - White (5:59)
2. Johnny Carl Morton - Jollife (4:38)
3. Sunset Chase - Pugh (3:02)
4. Contemporary Chick Con Song - White/Pugh/Jollife/Bradley/Davy (3:49)
5. Turn Around - Joliffe (3:36)
6. 6/8 For Amiran - White/Jollife (3:04)
7. Passing Through - White (5:17)
8. Down Along The Grove - White (0:47)
9. Another Travelling Tune - White/Pugh (16:23)
10. Fran And Dee Take a Ride - White (2:58)
BONUS CD TRACKS
11. Junior's Wailing (single version) - White/Pugh (3:30)
12. Windmill - Quittenton/White (4:28)
13. Autumn Song - White/Jollife (4:09)
14. Blues For Passing People - Steamhammer (6:26)
BAND

- Steve Jolliffe / flute, harpsichord, keyboards, saxophone (Alto), vocals, wind
- Kieran White / guitar, harmonica, Jew's-Harp, vocals
- Mickey Bradley / percussion, conga, drums
- Steve Davy / bass, guitar (bass), vocals
- Martin Pugh / guitar, guitar (electric), vocals
REVIEW
The second version of the British combo Steamhammer released its first LP utilizing the talents of Steve Davy (bass), Martin Pugh (guitars), and Kieran White (vocals/guitar/harmonica/Jew's harp) from the original band as well as new recruits Steve Jolliffe (woodwind/brass/harpsichord/vocals) and Mick Bradley (drums). It was the blues that initially drove the combo on its debut long-player, Reflection (1969), likewise known as Junior's Wailing. This lineup adds more exploratory and intricate melodies, courtesy of the multi-instrumental talents and sonic sculpting of future Tangerine Dream member Jolliffe. While this version of the band would not remain past this album, its unique fusion would arguably peak on Mountains (1970), the follow-up to MK II (1969). There are definite shapes of things to come throughout this effort, thanks to the aggressive interaction of the new recruits. They immediately step up to the plate, providing a variety of interesting melodic and instrumental textures. These range from the full-speed gallop of Jolliffe's "Johnny Carl Morton" or the Baroque waltz "Turn Around" -- both of which are punctuated by some prominent harpsichord interjections reminiscent of other U.K. progressive groups such as Family and Blossom Toes. Pugh's guitar work is another of the band's conspicuous assets, as he is able to fluidly waft between the acoustic romanticism of the diminutive "Sunset Chase" to the bluesy and tongue-in-cheek "Contemporary Chick Con Song." The latter track includes a stretched-out instrumental jam that captures Pugh's criminally underrated electric fretwork. Steamhammer's various and seemingly disparate musical elements coalesce on the manic "6/8 for Amiran." They blend the complexities inherent in the time signature with a tightly executed and churning blues -- much in the same way that early Jethro Tull was able to do on sides such as "Nothing Is Easy" or "For Our Mothers." The second side consists of a suite containing "Down Along the Grove," "Another Travelling Tune," and "Fran and Dee Take a Ride." This 16-plus minute epic allows Steamhammer to improvise and stretch out. The open structure makes room for the various musical styles to be thoroughly explored with more intricacy than a majority of the three- and four-minute tunes. The double lead electric guitars, courtesy of the song's co-authors, Pugh and White, blend well with Jolliffe's jazzy sax and flute improvisations. Enthusiasts are encouraged not only to seek this platter, but the Mountains (1970) follow-up as well. © 2007 Lindsay Planer, All Music Guide
BIO (Wikipedia)
Steamhammer was a blues-rock band from Worthing, England. The band was founded in 1968 by Martin Quittenton (guitar) and Kieran White (vocals, guitar, harmonica). The first stable lineup consisted of Quittenton, White, Martin Pugh (guitar), Steve Davy (bass), and Michael Rushton (drums). This version of the band acted as backing band for Freddie King on one of his tours of England. The band's first album, Reflection, was released in 1969. It included covers of "You'll Never Know" by B. B. King and "Twenty-Four Hours" by Eddie Boyd as well as original songs by White, Quittenton, and Pugh. Session musicians Harold McNair (flute) and Pete Sears (piano) also played on the album. This album was not commercially successful, but the band became a popular live act, especially in West Germany. In the summer of 1969, Quittenton and Rushton left the band, and Steve Jollife (saxophone, flute) and Mick Bradley (drums) joined the band. This version of the band recorded the album Mk II, released in 1969. It consisted entirely of original songs, and the musical style had more jazz and progressive rock influences. Jollife left the band in 1970. The remaining band members recorded the album Mountains, which was released in 1970. This album included a cover of "Riding on the L & N" by Lionel Hampton and seven original songs. In 1971, White and Davy left the band, and Louis Cennamo (bass) joined the band. This lineup, along with session vocalist Garth Watt-Roy, recorded the album Speech, which was released in 1972. It consisted of three long, mostly instrumental songs. Bradley died of leukemia in 1972, leading to the break-up of the band. Pugh and Cennamo went on to play in Armageddon. After that band broke up, Cennamo joined Illusion. White recorded a solo album, Open Door, which was released in 1975. Quittenton played guitar and co-wrote songs on albums by Rod Stewart. Jollife joined Tangerine Dream in 1978 and played on the album Cyclone.